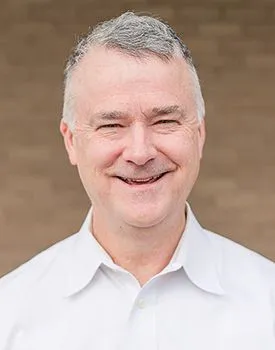 Dr. Billy McCann Jr. (Dr. Wes)
McCann Pediatric Dentistry was started in 1965 by Dr. Billy McCann Sr. and joined by Dr. Billy McCann Jr. (Dr. Wes) in 1993. Dr. Billy and Dr. Wes practiced together until 1998 when Dr. Billy experienced an injury to his hand causing him to redirect his energy to a teaching and administrative role at the University of Tennessee College of Dentistry. He spent several years as Professor and Interim Chairman of the Pediatric Dental department at the dental school before retiring in 2015.
Dr. Wes was born and raised in Memphis. After graduating from Memphis University School, he acquired his bachelor's degree in Microbiology from Mississippi State University in 1985. He received his Doctor of Dental Surgery (D.D.S.) from the University of Tennessee College of Dentistry and a Master of Science (M.S.) in Pediatric Dentistry from Ohio State University.
Along with private practice, Dr. Wes is on the Dental Surgical staff at St. Jude Children's Research Hospital. He is a board certified Pediatric Dentist by the American Board of Pediatric Dentistry, member of the American College of Dentists and has served as President and multiple office roles for the Memphis Dental Society.
He and his wife, Marianne, have been married since 1985 and are active members of Second Presbyterian Church. They have 4 sons and 6 grandchildren.
---
Amy has worked for Dr. McCann since 2007. She is a registered dental assistant that transitioned to the front office after the birth of her first child. Amy and her husband, Byron, have two boys, Eli and Austin and a rescue dog named Zebo. She enjoys watching Georgia football, being out in nature and spending time with her family.

Grace recently joined the team here at McCann Pediatric Dentistry. Grace and her husband, Matt have three children: Zach, who lives in Memphis; Corinne, who lives in Nashville; and Sarah, a junior in high school. She also has two dogs, Mork and Mindy (who are her babies). In her free-time, Grace likes to sew, needlepoint and walk with friends.

Jessi has worked for Dr. McCann since 2017. She has been a registered dental assistant since 2009. She has two children, Kinsley and Abel along with two cats: Smokey and Winston. She and her children enjoy going to Shelby Farms, ice skating and going to Redbirds games.

Kim recently joined McCann Pediatric Dentistry in January 2023. She has been a dental assistant for 5 years. She is married and has two children along with two granddaughters. Kim enjoys spending time with her children, grandchildren and dogs: Dodger and Josie.

Tori began working for Dr. McCann in July 2022. She grew up in Memphis and has been a hygienist for 9 years. Tori loves music and met her husband, Matt, in the University of Memphis marching band. They have three girls: Emma, Ava and Olivia; along with 2 dogs: a Husky, Bella, and a lab mix, Layla. Tori enjoys reading, playing flute and spending time with family.

Pat has been a dental assistant at McCann Pediatric Dentistry since 2000. She is married to Dr. Bernard Blen and they are presently raising a lively black labrador named Sherman. Pat enjoys spending her free time creating picturesque landscapes on canvas.

Debby has worked at McCann Pediatric Dentistry since 1987! She began working with Dr. Billy until he retired and has worked with Dr. Wes ever since. She and her husband, Joey, have a daughter, Rachel who lives in Connecticut and a son, Ty, who lives in Nashville. Her youngest, Mac, is a pitbull rescue who still lives at home. She enjoys visiting her children, shopping for antiques and college football.

Alissa joined the McCann Pediatric Dentistry team in 2023. She and her husband, Josh, have two little boys, Beckham and Liam. In her free time, Alissa enjoys exploring local coffee shops to find the best iced latte, coffee dates with friends, and bike rides with her family.